(1913-1994)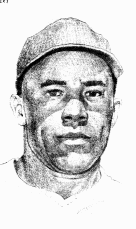 Ray Dandridge
There has never been a more masterful thirdbaseman than Ray Dandridge. Relaxed, smooth as silk and possessing a great pair of hands with a velvet touch, he could make all the plays. In addition to his quick hands, he had a powerful arm, and the versatility to excel at shortstop and second base, as well as at third base.
Playing at 5'7″ and 175 lbs., he joined Willie Wells, Dick Seay and Mule Suttles to form the "million dollar infield" of the Newark Eagles during the late 1930s. Someone said that a train could go through his bowlegs, but that a baseball never did. And those bandy legs never kept him from running the bases, finishing third in the league in stolen bases in 1944 at the age of 30, behind Henry Kimbro and Cool Papa Bell.
Often called "the best third baseman never to make the major leagues," Dandridge was also a good hitter for average, rapping the ball at a .370 clip during the 1944 season. A spray hitter who went with the pitch, and possessing a camera eye and good bat control, he seldom struck out and was a skilled practitioner of the hit-and-run play.
The Virginian started his professional career in 1933 by hitting .333 with Jim Taylor's Detroit Stars. During the latter part of the season, he was loaned to Tom Wilson's Nashville Elite Giants for a short time, but returned to Detroit where the team was breaking up because of financial difficulties. Refusing to return to Detroit the next season, he signed with Dick Lundy's Newark Dodgers, who were merged with the Brooklyn Eagles in 1936 to form the Newark Eagles. Dandridge continued as a star player with Newark for the remainder of the 1930's, with his best average coming in 1935 when he hit .368. During his time in the Negro National League, he compiled a lifetime .355 average for the classics. The star infielder was also voted by the fans to start in two additional All-Star games, but he missed these due to excursions to Latin America.
Dandridge spent most of the 1940s in Mexico, where he was a crowd favorite. In 1948 he led the league in batting with a .369 average and fashioned a career that earned him a plaque in the Mexican Hall of Fame. The next year he was signed by the New York Giants organization and assigned to their Minneapolis farm club. There he led the team to the championship and was voted the league's MVP.
However, regardless of his outstanding accomplishments, the Giants would not promote Dandridge to the parent club, nor would they sell his contract to another team. While the opportunity to display his talent in the major legues was denied, Dandridge was duly recognized as one of the greatest third basemen in the history of baseball when he was inducted into the Baseball Hall of Fame in 1987.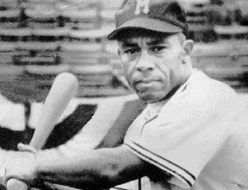 Years played: 1933-49
Positions played: third base
Teams: Detroit Stars, Nashville Elite Giants, Newark Dodgers, Newark Eagles, New York Cubans
Comparable Players: Brooks Robinson, George Kell, Terry Pendleton
For Additional Information
Dandy, Day, and the Devil, James A. Riley