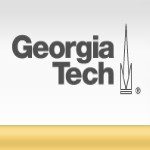 From a painting of future Hall of Fame pitcher Willie Foster posing with young admirers to the wood carving commemorating Satchel Paige, the pieces showcased in the Shades of Greatness exhibit at Georgia Tech weave together the story of the Negro Leagues of Baseball.
The traveling exhibit, which will be at Georgia Tech until March 20, is being housed at the Institute's Library, located at 704 Cherry St., in the Neely Gallery.
The exhibit is free and open to the public. A photo ID is required for entry into the library. Exhibit hours are Monday through Saturday from 9 a.m. to 5 p.m. and Sunday from noon to 5 p.m.
Co-sponsored by the steering committee for the yearlong celebration of the 50th anniversary of the matriculation of the first black students to Tech and the Georgia Tech Athletic Association, the exhibit was brought to campus as part of the anniversary celebration.
"This exhibit tells the story of African American history and culture through baseball," said Gary May, chair of the steering committee for the 50th anniversary celebration. "We hope the art not only educates those who come to see it, but also sparks conversations about everything from this facet of baseball history to the African American sports experience in general to larger issues of race and integration."
The Shades of Greatness exhibit was developed in 2003 by the Negro Leagues Baseball Museum in Kansas City, Mo. The museum commissioned artists to create 35 works that interpret various themes and stories from Negro Leagues history.
A special program highlighting the exhibit will be held 4 p.m. on March 3 in room 105 of the Smith Building. The symposium will feature speaker James A. Riley, dean of Negro League history. It will also include a panel discussion by Douglas Flamming, professor in the School of History, Technology and Society, Ivan Allen College; Lucius Sanford, executive director of the Letterwinner Association, Georgia Tech Athletic Association; and Danny Hall, head baseball coach, Georgia Tech Athletic Association.
The panel will be moderated by Eleanor Alexander, associate professor in the School of History, Technology and Society and is sponsored by Georgia Tech's Ivan Allen College of Liberal Arts.