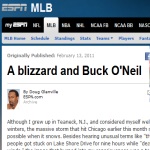 Doug Glanville remembers Buck O'Neil and other Negro Leagues players over at at ESPN MLB:
After numerous encounters with Negro Leagues players, what most awes me is their humility. These players are gentlemen who played during of time of racial tension with a glass ceiling for major league career possibilities. Keeping in mind that Buck O'Neil expressed joy that he played against the best (Ruth, et al.) and with the best in his Negro Leagues teammates, so he didn't speak of missing out. Maybe that is why they did not know of limitation in their spirit, in their sense of hope. Even with certain parks closed to them, they still competed against and with top talent.

We often forget that many of these men served their country. Buck O'Neil was committed to the U.S. Navy (as were many others) during the thick of his productive years. Their service reverberated their hopes for a better future America, because the America of their playing days did not embrace them as full citizens in many ways. Buck believed that this didn't necessarily limit his potential, but America's potential. There was still so much segregation, so much animosity for the players, like a Billy Williams, who was trying to follow a small path blazed by a few who came before him.
Read entire commentary at ESPN MLB