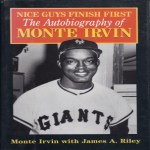 Nice Guys Finish First – The Autobiography of Monte Irvin


Monte Irvin and James A. Riley
Monte Irvin is an American Hero. With courage, belief and talent, he overcame great obstacles to realize his dream. And in this powerful autobiography, he tells the remarkable story of how he became a Hall of Fame baseball player and a man Americans can admire.
Monte Irvin had a mission in life–to be a baseball player. But before he could realize this goal, Irvin survived a near fatal illness as a teenager and lived through Both the Great Depression and World War II, which interrupted his college playing and his career in the Negro National League. He lost many of his prime ballplaying years to racial injustice that kept African Americans out of major league baseball. Still, after a lengthy career with the Newark Eagles, he became a major league star and played in two World Series with the New York Giants. Then he embarked on a second career as a Special Assistant to the Commissioner of Baseball.
Monte Irvin was a baseball pioneer. He was the Negro League owner's choice to be the first black player to enter the major leagues and break the color line, but his army service held him back. Still, Irvin became one of the first African Americans to play major league baseball when he was signed with the Giants in 1949. Later, after seven years as the Giant's centerfielder and clutch hitter, Irvin was inducted into the Hall of Fame in 1973.
Readers will learn about the good times and hard times of life in the Negro Leagues, and New York Giants fans will be enthralled as Monte recounts his experiences with Leo Durocher's teams, including the dramatic 1951 comeback that triumphed with the most memorable single play in baseball history–Bobby Thomson's "Shot Heard around the World." He also relates his conversation with Willie Mays as the two trotted off the field after what is still referred to as "The Catch" in the 1954 World Series.
Leo Durocher made few mistakes as the Giant's manager; however, he did make one slip when he said, "Nice guys finish last." His own star ball-player Monte Irvin proved that, sometimes, "Nice Guys Finish First."
——————-"Nice Guys Finish First", Carroll & Graf, Copyright 1996, Monte Irvin and James A. Riley. Used with permission.
---
KIRKUS REVIEWS

An inspiring…firsthand account of a celebrated baseball career, coauthored by Riley, an authority on the Negro Leagues.

Irvin has a right to be proud; he also has a gift for being humble. Born in 1919, one of 13 children, Irvin recounts with equal nostalgia both the dire poverty of his early years on an Alabama farm and his relatively stable later childhood in northern New Jersey. He also details fondly the great sacrifices and support provided by his parents. This ingratiating lack of self-consciousness extends to his descriptions of fellow Hall of Famers Josh Gibson ("without a doubt the greatest hitter I ever saw, black or white") and Jackie Robinson ("a tremendous, well-rounded athlete" though "it seemed like he thought he was just a little bit better than other players"). He makes no bones about how the "gentleman's agreement" barring black players from the game robbed him of his prime. However, he evenhandedly remembers the good times and camaraderie of Negro League road trips, as well as a few kindnesses extended by whites who risked severe reprisal for their generosity. Irvin entered the Major Leagues with the New York Giants in 1950. Though well past his peak as an athlete, he helped pace the team to two pennants and one World Series Win while also serving as mentor to a young centerfielder of unworldly talent named Willie Mays. Beginning in in the mid-1950's, Monte worked in the baseball commissioner's office, and he serves up some pointed commentary about the game's evolution, opining about contract arbitration (which "has really hurt baseball more than anything else") and the designated-hitter rule ("Pitchers can be very aggressive…because they never have to come to the plate") among other controversial topics.

Never one to intellectualize needlessly, Irvin has a tempered approach to baseball that will be tonic against those who attempt to make the game more complex and "meaningful" than it really is.