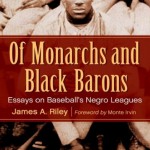 New in 2012 from author James A. Riley: Of Monarchs and Black Barons: Essays on Baseball's Negro Leagues
.
The first African American to play in baseball's recognized major leagues, William Edward White, appeared in 1879, followed by brothers Fleetwood and Welday Walker in 1884. The fourth African American, Jackie Robinson, did not make his major league debut until 1947. This sixty-three year gap has become known as the era of "black baseball"–a time when two generations of African American players were excluded from the existing major leagues. This anthology provides insights into black baseball during this extraordinary time, examining the socio-economic and political conditions that created this remarkably distinctive institution, and spotlighting players who characterized its special flavor and spirit. Based on forty years of research and hundreds of interviews with surviving participants and observers, these articles preserve a crucial time in our country's history and provide a thoughtful, new perspective on the Negro Leagues.
James A. Riley, a researcher, writer and a foremost authority on the Negro Baseball Leagues, is the author of six books and has contributed to many compilations and periodicals. He is the recipient of the McMillan-SABR Research Award and the SABR Negro League Committee's Lifetime Achievement Award. A past president of the Society for American Baseball Research (SABR), and former research director for the Negro Leagues Baseball Museum, Riley lives in Woodstock, Georgia.