Category Archive:
Current Issues
Current issues, affairs and events related to the Negro Leagues
Wikipedia: The Negro Leagues Baseball Grave Marker Project is an effort started by Peoria, Illinois Anesthesiologist Jeremy Krock and with support of the Society for American Baseball Research to put a proper headstone on the graves of former Negro League baseball players. Founded in 2004, the Project started when Dr. Krock contacted members of the …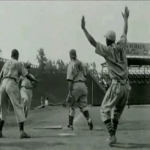 From WXIA Atlanta ATLANTA — If the Atlanta Black Crackers had a heyday, this film depicts it. In 1938, the team played in the Negro Major Leagues for one season, then promptly returned to the minor leagues. The film barely scratches the surface of that team. "I believe it's the only known footage of the …
Country star Charlie Pride's history with the Negro Leagues
Major League Baseball announced Thursday that the 2011 Civil Rights Game will be a Sunday afternoon affair on May 15, when the Braves host the Phillies — a team with two of the game's premier African-American players, Jimmy Rollins and Ryan Howard — at Turner Field.